Hi guys,
My name is Chris and I'm 22 years old. I live in the Netherlands and study economics in Nijmegen in the south-east of the country. I started riding motorcycles two years ago, bought myself a GSXR 600 which was built in 1999. I rode to the south of France six weeks after getting my drivers license. The year after I went to Italy through the dolomites.
But this year... I went all out, I wanted to see more of the world, explore a different part of Europe I had never seen before.
I started planning a new trip and read a lot on ADVrider.com for inspiration. I met Peter Muurman also from the Netherlands who rode his Ducati through Eastern-Europe and a big part through Russia.
I decided I really wanted to go through Eastern-Europe after seeing all of his pictures of his trip.
I started looking on google maps a lot and doing a lot of research about different countries I would be travelling through. This would be my first big solo trip so I wanted it to be a good one. I wanted it to be a trip that I would never forget and would take me to places I had never been to.
Something else I really thought was important about this trip is that it would contribute to something bigger, I wanted to help people with doing this trip, so I decided to connect a charity to my trip. I chose Riders.org, Riders.org helps people in Africa in areas that would normally not be reached because they live in remote areas. They provide the doctors and nurses with motorcycles and train them on using and maintaining them, so they can help the people in the remote parts of Africa. Money on its own is not enough to help the people in Africa because there is no infrastructure.
I am trying to raise money for the organisation through my trip.
You can check out the organisation when you click on the link below, or just take a look on their website
Klik hier om dit filmpje op YouTube te kijken
http://www.riders.org
If you would like to donate money you can do that here:
http://www.dreamordonate.nl/606-chris-riding-for-health
You can also follow me on Facebook.
https://www.facebook.com/chrisridingforhealth
This is the route I will be riding in 16 days.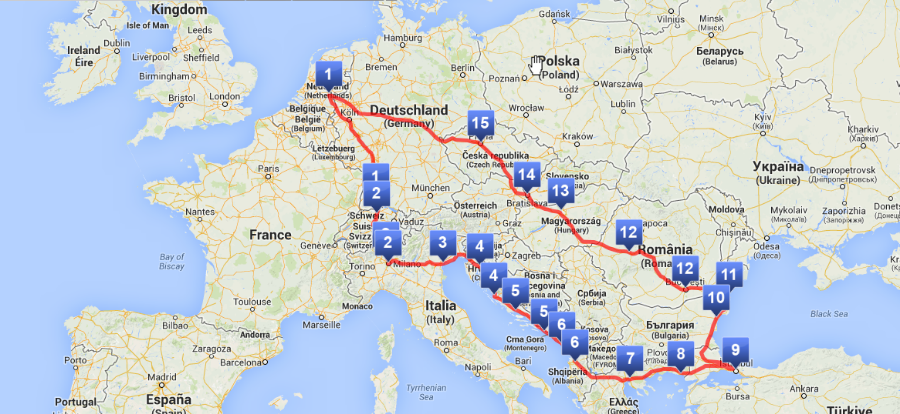 I was planning on riding my GSXR and customizing it with a superbike handlebar and adjust the footpegs, but after adding up the costs of the rebuild it seemed smarter to buy a newer and more suitable bike for the ttrip. On the picture below you can see my old and trusty GSX-R 600 srad.
So I started looking for a more suitable candidate for my trip.
So I started looking around on the interwebs and in dealerships and finally chose for a v-strom built in 2009 with trax panniers, cruise control and heated grips with 52300 km's on the clock. So I was ready for the road!